CINCH systems - Intrusion Detection Systems, Modules, Sensors, Kits, and Enclosures
High-security technology, customer-driven solutions.
CINCH-On Protector and Protector II Panel Relay Supervision Interface
CO-PRSI
Allows for the supervision of both of the Protector and Protector II control panels' output relays. Wiring is supervised from relay interface board to end-of-line supervision module
- NOTE: Relay Supervision is 'enrolled' into the system and uses one zone per relay. Protector and Protector II Panel Zone 1 & 2 terminals are dedicated to this interface when used.
Shipping Info: Carton: 6-3/4" x 4" x 2-1/2" Weight: 0.20 lbs.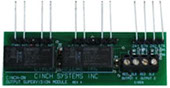 Product Applications:
Government Agencies, Sensitive Compartmented Information Facilities - SCIF's, Command Centers. Critical Infrastructure, Embassies, High Security Critical Industrial, Energy Infrastructure, Transportation, Financial Institutions and any facility requiring the highest level of encrypted security.



click for GSA ORDER Page


Copyright © 2021 CINCH™ systems Inc. All Rights Reserved. Designated trademarks and brands are the property of their respective owners. Privacy Policy Terms of Use