CINCH systems - Intrusion Detection Systems, Modules, Sensors, Kits, and Enclosures
High-security technology, customer-driven solutions.
CINCH-On CeLAN 4-Relay Output Tester / Demo Interface
CO-T-4R
Allows for the easy testing and configuration of a CeLAN 4-Relay Output Module.
When connected, allows for the testing of the input zone and verification of the programming of
the four module relays.
Zone can be tested in the Normally Open or Normally Closed configurations.
All Zones states can be demonstrated including GFH (Ground Fault on the High side of the zone), and GFL (Ground Fault on the Low side of the zone).
Shipping Info: Carton: 6-3/4" x 4" x 2-1/2" Weight: 0.20 lbs.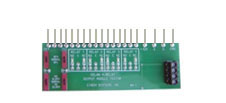 Product Applications:
Government Agencies, Sensitive Compartmented Information Facilities - SCIF's, Command Centers. Critical Infrastructure, Embassies, High Security Critical Industrial, Energy Infrastructure, Transportation, Financial Institutions and any facility requiring the highest level of encrypted security.



click for GSA ORDER Page


Copyright © 2021 CINCH™ systems Inc. All Rights Reserved. Designated trademarks and brands are the property of their respective owners. Privacy Policy Terms of Use