High-security technology, customer-driven solutions.
C
e

LAN Touch Screen Control LCD display

Ce-TS-Door-P

An updated version of the very successful Ce-TS into a new high impact plastic housing.ᅠGraphical user interface on a 5.6" color touch screen mounted inside a Belgium Grey (white/gray,) plastic frame. Includes mounting plate with built-in level and removal tamper. Mounts easily on a single, double, triple, or quad gang back box.

For SCIFs, where mounting into a recessed back box is not allowed or practical, two slim surface mount back boxes can be used.

Color LCD (liquid-crystal display) for complete on-site system IDS programming and IDS operation control of Protector and Protector II, Compatriot, Ascendant, or Rampart Systems.

Scrambled QWERTY or 12 key numeric keypad for entering pass codes. Online help screens lead user through trouble/diagnostic screens.


Back box options:
Part # E-TS-P-BB-NT: Use this back box with non-threaded conduit (ordered separately)
Part#: E-TS-P-BB-T: Use this back box with threaded conduit (ordered separately).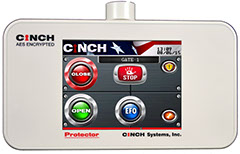 Product Applications:
Government Agencies, Sensitive Compartmented Information Facilities - SCIF's, Command Centers. Critical Infrastructure, Embassies, High Security Critical Industrial, Energy Infrastructure, Transportation, Financial Institutions and any facility requiring the highest level of encrypted security.