CINCH systems - Intrusion Detection Systems, Modules, Sensors, Kits, and Enclosures
High-security technology, customer-driven solutions.
Adapter Plate for CINCH Enclosure
E-P-AP
The Accessory Adapter allows for the mounting of 1 Ce-RP module or 24ZI in an E-P enclosure. Provides additional room when multiple modules are required.
Accessory kit included.
Shipping Info: Carton: 10 3/8" x 5" x 1/4"
Weight: 0.5 lbs.
For CINCH systems enclosures, dimensions and options-Click here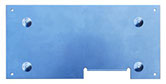 Product Applications:
Government Agencies, Sensitive Compartmented Information Facilities - SCIF's, Command Centers. Critical Infrastructure, Embassies, High Security Critical Industrial, Energy Infrastructure, Transportation, Financial Institutions and any facility requiring the highest level of encrypted security.



click for GSA ORDER Page


Copyright © 2021 CINCH™ systems Inc. All Rights Reserved. Designated trademarks and brands are the property of their respective owners. Privacy Policy Terms of Use