CINCH systems - Intrusion Detection Systems, Modules, Sensors, Kits, and Enclosures
High-security technology, customer-driven solutions.



click for GSA ORDER Page
Intrusion Detection Systems – IDS
Download CINCH IDS Brochure


US Government agencies world-wide rely on CINCH systems Intrusion Detection Systems control panels, sensors and detectors to protect people and property. All CINCH IDS system components feature our patented AES Encrypted End-To-End communication. This provides complete data encryption from the device to the control panel. Nothing other than the control panel can read the encrypted signal or tamper with it — eliminating hacking and tampering directly or via the internet.

Simple To Use Technology
Easy to use / Easy to program - no PC required
USB CINCH Stick for backup & system upgrades
Module testers / demo boards.

Secure Technology
System-wide AES Encryption, including modules and sensors.

State-of-the-Art Technology
Scalable with open-architecture to integrate with equipment from multiple suppliers.
Intelligent power supplies for portable SCIF installations.

Approvals and Listings:
FIPS 197 Certification
ICS-705 Compliant
UL 2050 Compliant
UL 1076 Listed
UL 681 Listed

CINCH Intrusion Detection Systems Control Panels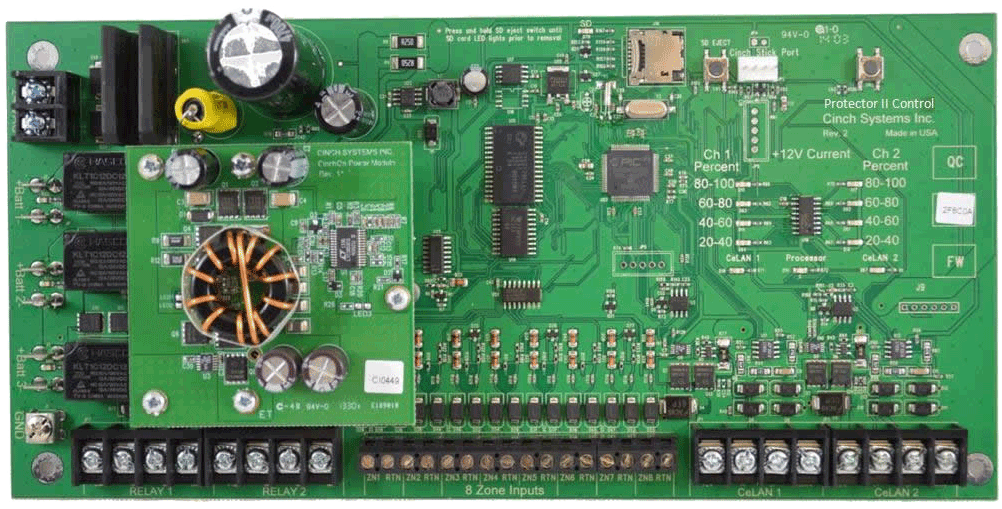 Zones
256
Partitions
8
Devices
100
User Codes
252
Approvals
UL 2050
UL 1076
UL 681
FIPS 197
ICS-705
Zones
100
Partitions
4
Devices
50
User Codes
102
Approvals
UL 2050
UL 1076
UL 681
FIPS 197
ICS-705


Copyright © 2021 CINCH™ systems Inc. All Rights Reserved. Designated trademarks and brands are the property of their respective owners. Privacy Policy Terms of Use