CINCH systems - Intrusion Detection Systems, Modules, Sensors, Kits, and Enclosures
High-security technology, customer-driven solutions.
CeLAN 4 Relay Output Module
Ce-4RO
Add up to 4 programmable relay outputs and 2 additional supervised hardwired zones. Includes mounting hardware and two 3.0K ohm end-of-line (EOL) resistors. Can be expanded to a total of 100 programmable output relays.
AES Encrypted CeLAN communications.
Five (5) state zones:
Open Circuit
Supervised Circuit (3k EOL)
Short Circuit
Ground Fault High
Ground Fault Low
CINCH Stick Field Upgradeable software.
Includes Accessory Hardware kit.
Four (4) Form C (dry contact) output relays rated 4A @ 24 VDC, 4A @ 24 VAC, 10A @ 28 VAC maximum.
Two (2) fully supervised input zones.
Product Applications:
Government Agencies, Sensitive Compartmented Information Facilities - SCIF's, Command Centers. Critical Infrastructure, Embassies, High Security Critical Industrial, Energy Infrastructure, Transportation, Financial Institutions and any facility requiring the highest level of encrypted security.



click for GSA ORDER Page
Cinch On 4-Relay Output Module Tester/Demo Interface
Part#: CO-T-4RO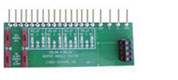 Copyright © 2021 CINCH™ systems Inc. All Rights Reserved. Designated trademarks and brands are the property of their respective owners. Privacy Policy Terms of Use