High-security technology, customer-driven solutions.
C
e

LAN AES Encrypted
Receiver - IDS

Ce-AESR-V2-IDS-kit

The CeLAN AES Encrypted Receiver - IDS/I24 allows you to connect up to sixteen (16) separate CINCH systems with up to sixteen (16) total partitions for remote reporting, commanding, and controlling of the systems (partitions). The receiver prompts the local guard to respond to changes in all monitored systems as they occur.

Communications:
Copper wire
Fiber Optics
TCP/IP
CeLAN AES encrypted technology for security, easy setup and enhanced performance.
Two (2) color touch screens.
16 communication ports.
LED indication of communication port.
Complete System Status display for the receiver including any Ce-RP modules wired to the
internal CeLAN bus.
CINCH Stick Field Upgradeable firmware.
Mounting standoffs for CeLAN modules.
Kit available, include:
Transformer.
Termination box.
Pre-wired.
Local annunciation.
Pictorial alarms.
Built-in help screens.
Includes Accessory hardware kit.
Product Applications:
Government Agencies, Sensitive Compartmented Information Facilities - SCIF's, Command Centers. Critical Infrastructure, Embassies, High Security Critical Industrial, Energy Infrastructure, Transportation, Financial Institutions and any facility requiring the highest level of encrypted security.
Ce-EX CeLAN Expansion Module
Ce-EX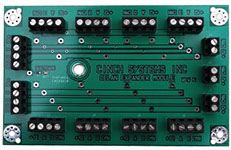 Ce-RP Remote Power Module
Ce-RP