High-security technology, customer-driven solutions.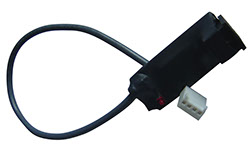 CINCH-On PS-2 Keyboard Interface
CO-PS2KI
Allows for the connection of a PS-2 keyboard to any CeLAN Touch Screen Module when connected allows for alphanumeric test entry via the PS-2 Keyboard.
Includes accessory kit.
Shipping Info: Carton: 4-3/4" x 3-1/4" x 2-1/2" Weight: 0.15 lbs.
Product Applications:
Government Agencies, Sensitive Compartmented Information Facilities - SCIF's, Command Centers. Critical Infrastructure, Embassies, High Security Critical Industrial, Energy Infrastructure, Transportation, Financial Institutions and any facility requiring the highest level of encrypted security.